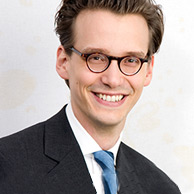 Sebastian Reinsch
Partner
Sebastian Reinsch ist Partner der Sozietät Janke & Reinsch. Zuvor war er von 2003 bis 2007 als Rechtsanwalt im Frankfurter Büro der internationalen Sozietät Freshfields Bruckhaus Deringer, dort im Bereich Prozesse, Schiedsgerichtsbarkeit und Mediation.
Sebastian Reinsch betreut nationale und internationale Mandanten in komplexen streitigen Verfahren vor nationalen Gerichten und Schiedsgerichten sowie bei der Gestaltung und Verhandlung von Verträgen. Der Schwerpunkt seiner Tätigkeit liegt im privaten Bau- und Anlagenbaurecht sowie im allgemeinen Vertrags-, Handels- und Haftungsrecht einschließlich Organhaftungsrecht. Darüber hinaus berät er zu Fragen des Produkthaftungsrechts.
Von 1994 bis 1999 studierte Sebastian Reinsch Rechtswissenschaften an der Universität Frankfurt am Main (erstes Staatsexamen 1999). Während seines Referendariats im Bezirk des OLG Frankfurt am Main (zweites Staatsexamen 2001) arbeitete Sebastian Reinsch in der Rechtsabteilung eines Initiators von Geschlossenen Immobilienfonds.
Einen Teil seines Referendariats absolvierte Sebastian Reinsch bei einer U.S. amerikanischen Kanzlei in New York City. Im Herbst 2003 erwarb er den akademischen Grad "Master of Laws" (with distinction) von der University of Edinburgh, Schottland.
Sebastian Reinsch ist Mitglied der Deutschen Gesellschaft für Baurecht e.V., der Deutsch-Amerikanischen Juristenvereinigung sowie der Deutschen Institution für Schiedsgerichtsbarkeit e.V. (DIS). Er ist Dozent der Rechtsanwaltskammer Frankfurt für Zivilprozessrecht in der anwaltlichen Praxis im Rahmen der Referendarausbildung am Landgericht Frankfurt am Main.
Er spricht Deutsch und Englisch.
Telefon
Tel +49 69 959291 7-0
Fax +49 69 959291 7-29